Macaw Rescue Inc.
Palm City, Fl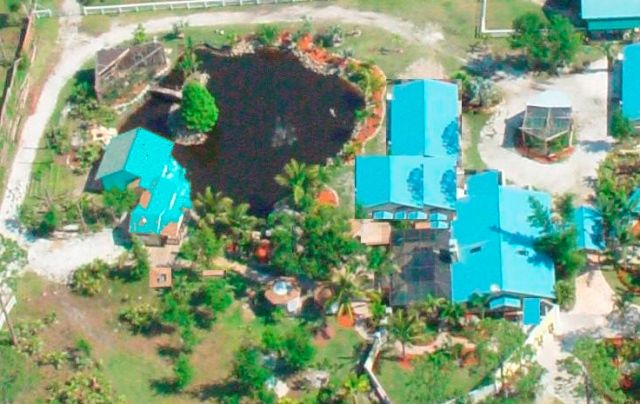 50' X 30' FLIGHT


This flight environment is 15' high and currently houses 8 Blue and Gold Macaws. It faces southeast and its two rear walls provide protection from the colder winter winds and most inclement weather. It is partially covered and includes a shower connected to the sprinkler system.

The Environment


Hanging feeder platforms keep vermin away. Boxes catch shells and residue and pine logs were covered by 1"x 3" 10 gauge welded wire and painted black to eliminate glare. Nursery ground cloth was used to cover north and west walls to serve as a wind and rain break.

Natural Plants


Environments include natural plantings, feed stations under cover, and nestboxes. They have the northern side covered and shielded. Additional flight environments to the south of the large Macaw environment overlook the pond and waterfall and have their northern and western sides enclosed to provide maximum protection from the elements.
6 large walk-in Aviaries


Four 8' and one 12' Octagon Aviaries made of southern yellow pine covered with 1"x3" 10 gauge welded wire with a mosquito mesh overlay and clear vinyl heavy gauge facing northern and western exposures

Heavy Construction


The Aviaries are set on cement pads and include low voltage lighting. Access to sunshine and rain is provided but can be covered during major storms. Each aviary weighs more than 2 tons and they have survived several category III hurricanes without even moving an inch.

Feeding stations


Feeding stations are accessed from outside the Aviaries and nest boxes are mounted so as to provide direct access from the outside by caregivers
Central Care Center


The Central Care Center is located in the center of the 6 Aviaries and serves as a weather block for winds out of the south. It is constructed from poured and reinforced concrete including the roof.

High winds


During high wind or extreme storm conditions, the birds in the Flight Environments and Aviaries can be temporarily housed in containment cages protected from the elements.

Clean Conditions


The facility also has two digital incubators with integrated nebulizer and egg rocker. The 12 gallon per day water distiller provides all pure water needs and the dedicated dishwasher permits daily sanitizing of all food and water dishes
501(c)3 Macaw Rescue, Inc. is a non-profit corporation established under the laws of the State of Florida to provide a forever home for unwanted, abandoned, rescued, captured, or confiscated Psittacines with particular emphasis on the larger Macaws.